CRIPPLED FOX: Throw Up A "V" That Stands For Venice - LP
KW068
Année: 2012
Label: Kawaii rds / Farce Attack rds / Black Trash rds / Suburban White Trash rds / Stay rds / 83 rds / Some Kind Of Hate rds / Death Crush rds / Flipped Up rds / Blackout Brigade rds / Violent Loser rds
Après de nombreux split 7", K7 et autre compilation, voici le tout premier album pour ce groupe de Hongrie. Armé d'un nouveau line-up, ils envoient à toute bringue 22 morceaux de thrashcore survoltés, au fort relent crossover. De la furie tout à fond qui rappel DRI ou ATTITUDE ADJUSTMENT! En bonus, 4 titres live enregistrés en Slovaquie.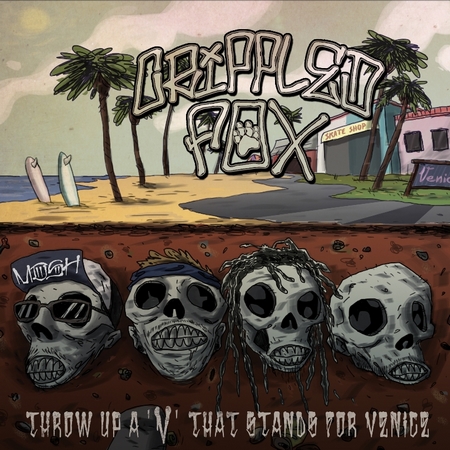 Tracklist!
01. V Stands For Venice
02. Hattori Hanzo In Da Mosh
03. What's With The Do It Yourself
04. Crossover Is Thrashcore
05. Think It Twice
06. Venice Boardwalk
07. Watta Fuck
08. Take No Shit
09. Get Along
10. Bow To Da Sytem
11. Fooooox!
12. Trash Yourself
13. Stood In Line
14. Fast Is Da Only Way
15. Thrashcore Attack
16. Doom Of Da Fox
17. Skating A Pool On Venice
18. What You Get
19. Mosh With The Living Dead
20. Wish I Could Skate A Ramp (live)
21. Cut Your Hair (live)
22. If I Lived In Venice Beach + CxFx Is Fit For Mosh (live)